How to hire good software engineers, is a problem which I have had to face for a long time. How can you really gauge the ability of a candidate during an interview? This is further made difficult by the fact that there are no standard requirements to be met for a software engineer. Anyone who could learn a programming language and do a bit of programming can call (and they do) himself or herself a software engineer.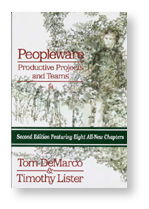 A few months ago, I read the book: Peopleware, Productive Projects and Teams by Tom DeMarco and Timothy Lister. In Chapter 15, the authors draw an analogy between hiring a juggler for a circus and hiring an engineer or designer. No one would hire a juggler based only on an interview without seeing him perform. The same should be applicable to engineers. Yet how many engineers (in our case software engineers) are hired based only on an interview?
In the past, I have suffered due to bad hiring decisions at interviews. In order to prevent this, recently we decided to make it mandatory for the each candidate to go through a pre-interview test that consists of an exercise to write working code on a computer to solve a given problem, and to come up with designs on paper for a few given software problems. Today's the first time we tried it. So far two candidates have taken the test, and we can already see that it gives us much more information about their skills than an interview.